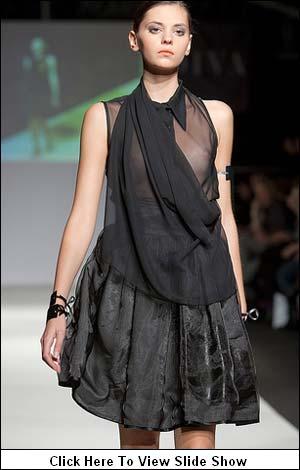 EDITH A´GAY presented by the pret-a-porter Paris 2009, in the Espace Saint Martin, near of the Beaubourg, her actually collection spring summer 2010, called '...rotations'.
The famous Austrian artist Alfons Schilling and his spin paintings are inspiration for the EDITH A'GAY collection spring summer 2010. The paintings transform a schematic, 3D motion (rotation) on 2D canvas. In her collection, EDITH A'GAY uses the aesthetics of the spin paintings as prints, the graphic elements as cutting lines, in order to bring back and anew define the 'lost' dimension through body movement.
The superior quality of fabrics like silk and organza in unobtrusive colours enhances the visual appearance.
The idea of the rotation was transformed into an ever moving show. The models circulated around the audience, thus created an atmosphere of constant movement, to finally walk down the middle candle-lit catwalk towards the photographers.
The basic colors are with, black and red; appear like signals in a confused world, simply but strong. The minimal touches are only some prints and ribbons. Still are the outfits light, subtle but graceful.